When we say the KUDU is an all-in-one outdoor kitchen and entertainment system, we really mean it. Built to handle the weight, pressure, and heat of cooking multiple dishes at once, the KUDU is a head-turner. This guy is almost certainly more enjoyable than the season finale of whatever series you can't peel yourself away from.
Have you seen the KUDU at full capacity? Imagine cooking up a mean chili on one side, while turning meat on the other. Add some grilling, searing, smoking, frying or steaming to the mix on more than one plancha. Now that's entertainment! No other product allows you to steam oysters while slow cooking a Boston Butt, or grill blackened grouper while frying shrimp.
A CUT ABOVE THE REST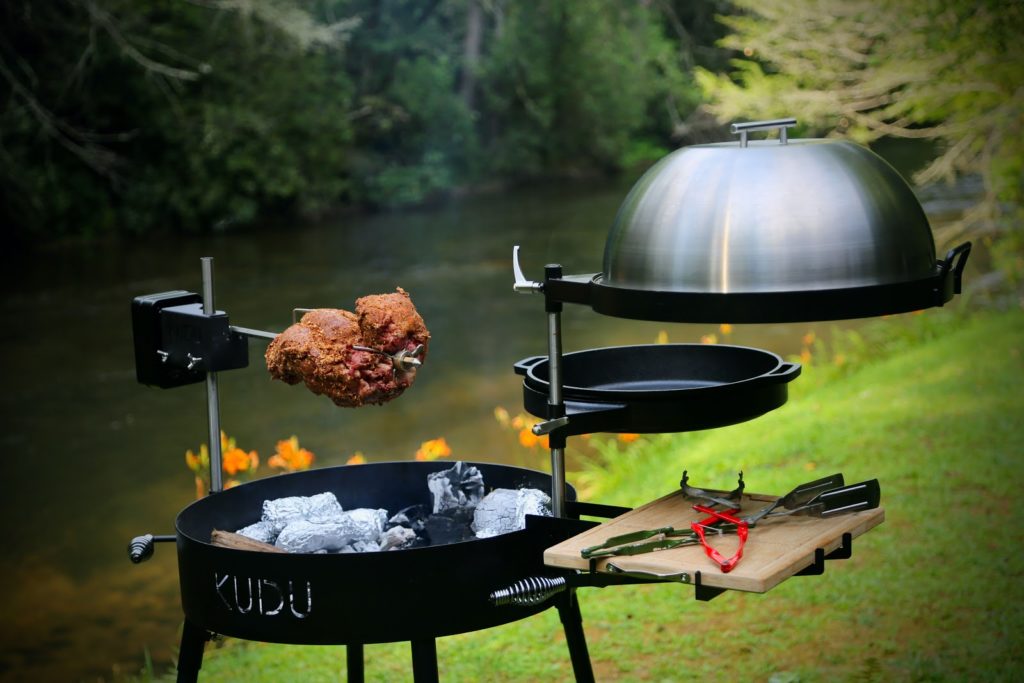 The KUDU's versatility is not just for show. The facts are simple: it works and it works well! We've taken the old way of cooking and expanded it, creating a grill that maximizes the entertainment and experience for everyone.
The design is simple. There are no buttons, no fancy automation. Made of stainless steel, the KUDU utilizes elevation bar. These allow you to raise, lower, and swivel your cooking surfaces anywhere over the heat. The entertainment doesn't stop there, when your food is finished, the KUDU doubles as a fire pit!
RING OF FIRE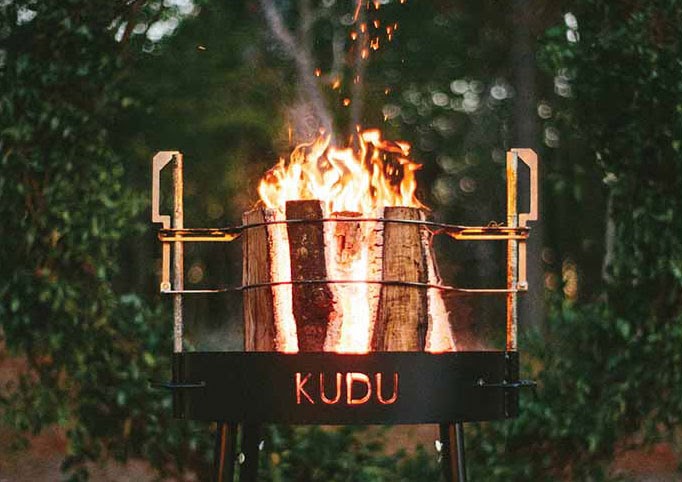 When the bellies are full, but the night is still young, why not linger a little longer? With the help of our Fire Rings, you can turn your KUDU into an incredible fire feature. Simply connect the ring assembly to the vertical bars, and you'll have a crackling fire. Let this set the ambiance for those conversations to go on a little longer, the laughs to get a little louder, and everyone to share their stories well into the night.
MEANINGFUL CONNECTIONS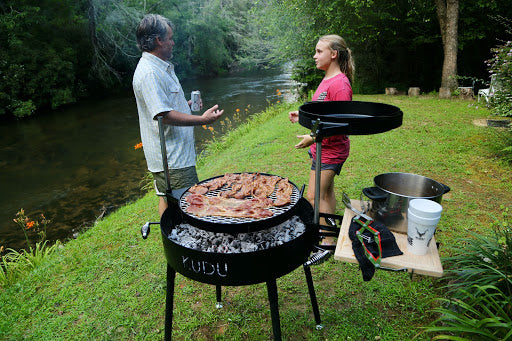 Many grills are designed to decrease cooking time. We take a different approach, engineering our products to maximize time spent on everything we value – family, friends, food, and fire. It has always been our mission to create a grill that can do everything you want; bake, sear, sauté, smoke, steam, and fry. Nowhere else can you find a grill that can multitask like this. Fully portable and built to last, The KUDU was designed to bring out the best in people. With The KUDU they're up to explore new dishes and invite others over to join. With its dual functionality as a grill and fire pit, you can expect The KUDU to be the centerpiece of every cookout.
Get your very own KUDU Grill and enjoy the fire magic! Contact us today. And don't forget to follow us on social media.