ALL-IN-ONE CAMP COOKER
Ever spent any time camping outdoors? Then you probably know that food always taste better when you're camping. If you're anything like us, you're probably never hungrier than after long days of swimming, hiking or basking in nature. At times like these, there's nothing quite like coming back to see the camp kitchen, ready for you.
There's nothing more satisfying than sinking your teeth into a delicious flamed-grilled or slow smoked meal. Biting into a juicy hamburger grilled to perfection while you dry off around the campfire after a swim. Chatting and laughing with friends and family around a great meal as the sun lays to rest. It's moments like these that make up the best meals and even better memories.
FAMILY, FRIENDS, FOOD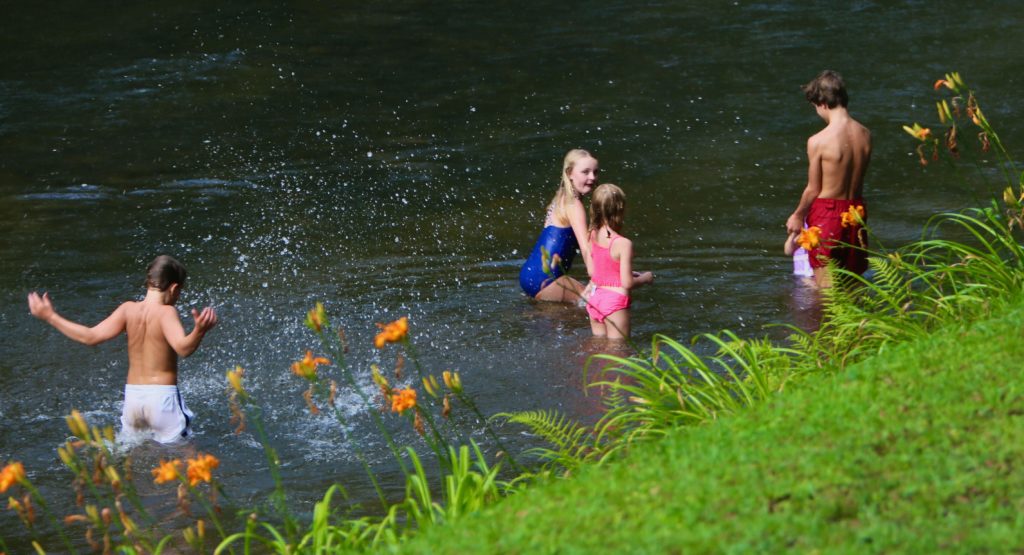 We've decided to embrace the opportunity that 2020 is giving us by focusing on the most precious thing that's taken for granted — more time. We finally have uninterrupted time for ourselves and our family, and over the past few months, we've made the most of it. We are focused on slowing down and spending more time together with friends and family. Something that keeps us very busy is exploring our home state and even making trips to our cabin in the woods. All this is often accompanied by a KUDU Grill for campfire cooking.
We're not the only ones slowing down and leaning into this relaxed pace. The KUDU Nation has been cooking up a storm with veteran and new members alike bursting at the seams with culinary creativity. There are tons of out-of-the-box recipes and techniques pouring out of the backyards and campsites of KUDU owners across the US. We're so excited to see so many members of KUDU nation taking full advantage of the KUDU's portability, turning 2020 into an outdoor grilling adventure.
CATCH 'N COOK
What we look forward to most on any campout is catching what we cook. The aim is to have at least one surf and turf meal. Depending on the catch, we're prepared to go all out on the cookout. On our most recent campout, we caught not 1, not 2, but 7 trout. Suffice to say, the KUDU toys came out to play and cooked up some mean and succulent surf 'n turf.
FLYING FISH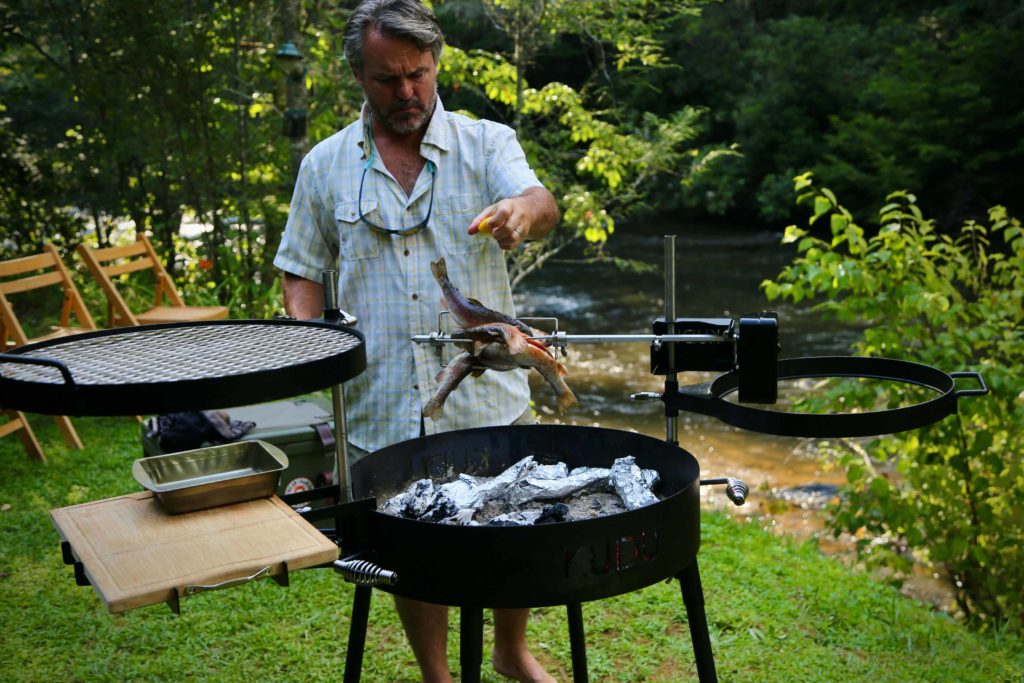 We've packed some crazy dishes on the rotisserie in the past, but this is by far the most extreme. Hanging out on the KUDU rotisserie, is our flying fish creation. Brushed with olive oil and a few squeezes of fresh lemon juice, our catch of the day cooked slow and steady. The benefits of cooking fish on the rotisserie are incredibly even cooking and skin that doesn't stick to the grill.
SMOKED TROUT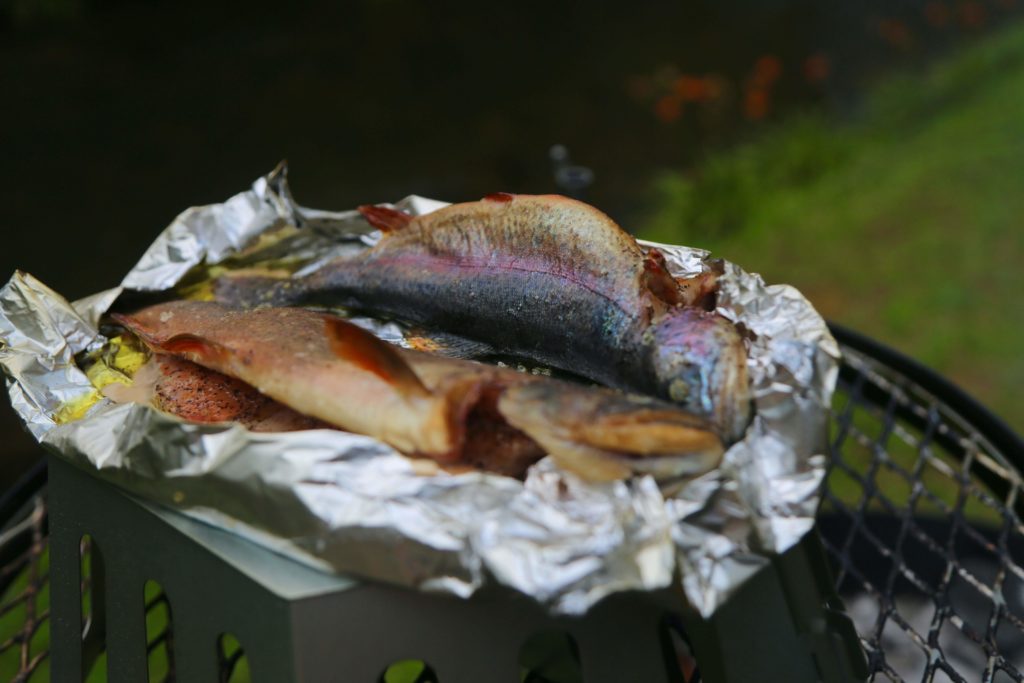 So simple, so tasty, and all made on the KUDU Grill. Since luck was on our side, we had enough fish to test one of our favorite KUDU accessories, the Smoker Lid. We wish we could bottle up and send you a precious whiff of the smoky goodness that our twin trout package was making as it was smoking. And the result; buttery, flaky, melt-in-your-mouth goodness that we're still dreaming about.
BEAUTIFUL PLACES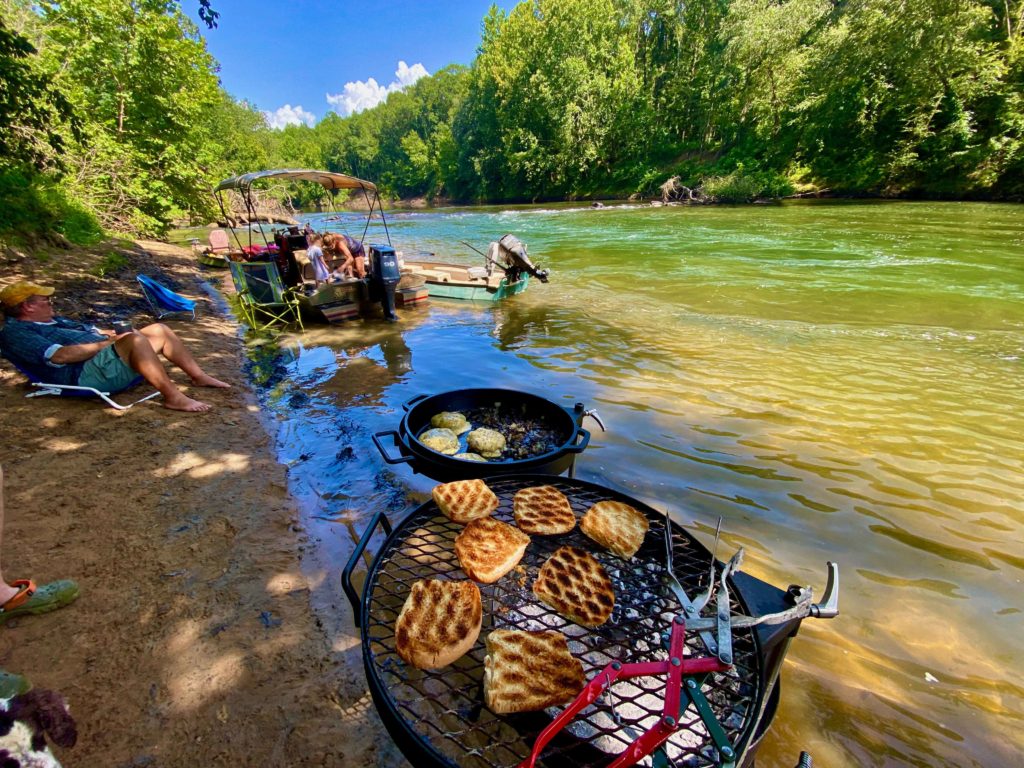 We challenge you to escape the cabin fever and enjoy the little things, like falling asleep under the stars in a tent, the smell of fresh coffee brewing with the promise of adventure, teaching your kids valuable outdoor skills, campfire stories paired with s'mores and a well-deserved adult beverage for you and the Mrs. There are endless beautiful places to explore, probably closer than you think. The ball's in your court to get outside and explore.
Get your very own KUDU Grill and enjoy some campfire cooking! Contact us today. And don't forget to follow us on social media.